The secrets of gingerbread
The secrets of gingerbread
Gingerbread has a long and tasty history.
The fragrant flavours of gingerbread have been popular since ancient times. In the 10th century, the Chinese were very fond of Mi-Kong ("honey bread), a delicacy made from wheat flour and honey, fragranced with aromatic plants and baked in the oven. Later on, it was the crusaders who brought the secret of this special bread back to Europe, as the recipe was borrowed from the Chinese by the Arabs. We then had to wait for the spice route to bring us ginger, cinnamon, star anise and cloves before we could finally taste the gingerbread we know today.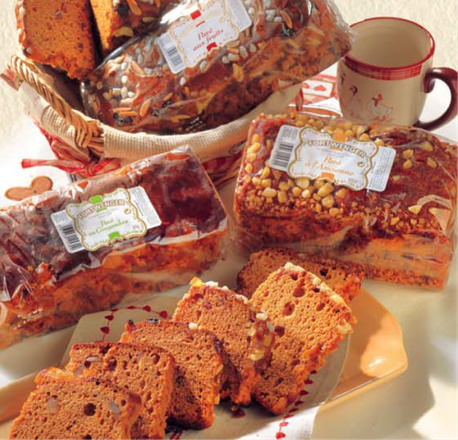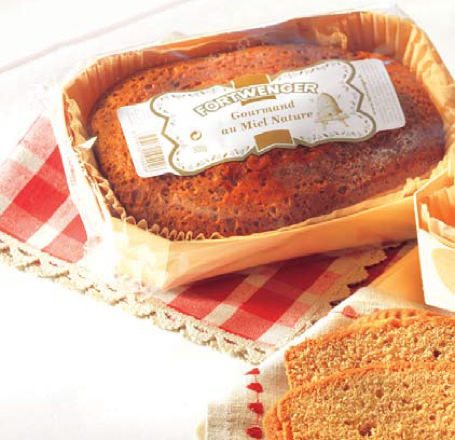 The secrets of making good gingerbread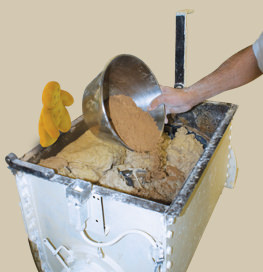 The dough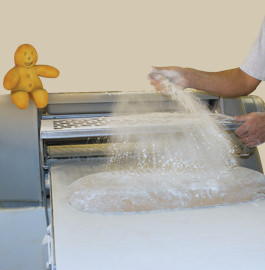 Shaping and rolling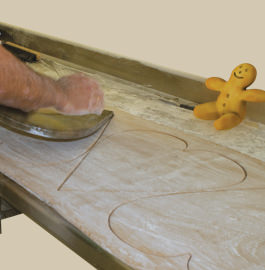 Cutting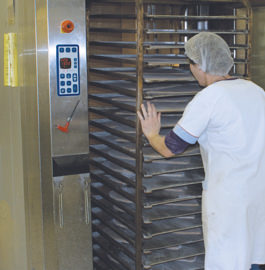 Cooking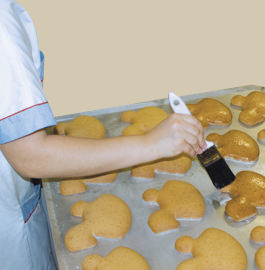 Glazing
Decoration
The dough
The dough is prepared using flour, honey and sugar. It is left for four to six weeks at room temperature.
Spices and rising agents are then added, and the dough is kneaded in a trough.

Two tonnes of dough are prepared every day in the Fortwenger workshops.
Shaping and rolling
Once the dough has been kneaded, it is shaped into a rectangle.

It is then passed through a mechanical roller to produce the correct thickness. .
Cutting
Alsatian gingerbread comes in many different shapes – hearts, bear cubs, piglets, gingerbread men, and so on. The shapes are cut out using metal cutters.
Fortwenger uses more than forty different shapes for its standard production. In all, there are more than a hundred, and some of them are only used for special orders !
Cooking
The gingerbread is placed on baking sheets that have been greased with 100% vegetable oil and floured so that the gingerbread doesn't stick. It is then cooked in an oven.
Ils sont ensuite cuits au four.

The temperature and cooking time vary according to the model – thin biscuit-type gingerbread is cooked for just a few minutes at 200°C, while some thick items stay in the oven for an hour !
Glazing
When the gingerbread comes out of the oven, and while it is still hot, a glaze made from cooked potato starch and water is applied to seal it and give it a lovely golden colour.

At Fortwenger, all the stages in preparing and finishing the products are entirely done by hand.
It's our way of respecting tradition !
Decoration
The decoration on gingerbread gives the product its personality. It is the signature of each manufacturer.
We use a range of coloured sugars mixed with water and egg white for a firmer hold. The colours most usually used are red, green, white, yellow and blue, but any colour is possible.
There's a real knack to using an icing bag with precision!
See our video : Industrial manufacturing
Good ideas !
Fortwenger, the tradition of gingerbread since 1768
Fortwenger has been making traditional gingerbread for 200 years and is located in Gertwiller, Roppenheim, Strasbourg, Kaysersberg et Colmar. You will find all of our traditional Alsatian expertise in the Fortwenger online shop: Christmas gingerbread, small cakes, chocolate St Nicolas, florentines, spritzbredele.. loved by all ages.
And if you have not seen yet, you should discover the wonderful palais du pain d'épices and its mannele's world, a world which, just look like as the hansel and gretel house !